Truck Insurance
We understand the risks of a trucking business
You need a good insurance plan for your truck to protect yourself in case of an accident. Our experts can help you buy the right plan for your business. We will help you choose the best policy that meets all the needs of your business so that you can run your business with peace of mind. We understand the risks of a trucking business because we have worked with a large number of transporters who discuss their requirements with us every day. We offer a number of insurance plans that cover different types of risks that you can face on the road.
It doesn't matter if you want to buy insurance for a single truck or your entire business, we've got you covered.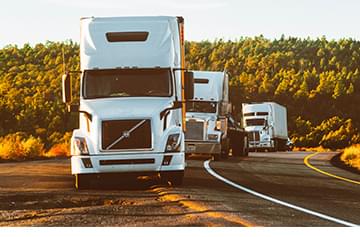 Types of truck insurance
Primary Liability
This coverage is mandatory, and it provides you protection from damage caused to other people in case of an accident. You are required by law to have this coverage, which is why we include it in all our plans.
General Liability
General liability is very important coverage that provides protection from property damage or bodily injury that might occur while on your premises, using your products or services. We can also offer you coverage for Artisans Contractors, contactors liability, contractual liability, electrical work, and plumbing.
Non-Trucking Liability / Bobtail coverage
Non-trucking liability insurance provides limited liability protection when the owner-operator is not on dispatch, and the truck is not pulling a loaded trailer.
Motor Truck Cargo Coverage
Transporting the freight is a big responsibility. Motor truck cargo insurance protects you in case of damaged or lost freight. This coverage can be very useful for you because sometimes even some minor accidents can damage the freight.
Comprehensive Physical Damage and Collision Coverage
Your truck can get damaged due to various reasons such as collision, fire, theft, hail, windstorm, earthquake, flood, or vandalism. This insurance covers your truck and trailer for damage caused by any of the above-mentioned reasons.