Business Insurance
We can help you with all your questions
Business insurance not only protects the business that you have built with hard work and passion, but it also gives you much-needed peace of mind so that you can continue to work hard and grow your business.
We understand the hardships a person has to face to build a business from nothing. That is why when you work with us, we consider ourselves a part of your team and aim to protect your business like our own. We are available to answer all your questions at all times so that you never feel helpless. Depending upon the size and nature of your business, we will help you buy the best insurance policy at the lowest possible rates. We value the hard work and passion that is required to run a business, and we are here to help you protect what you have built with dedication.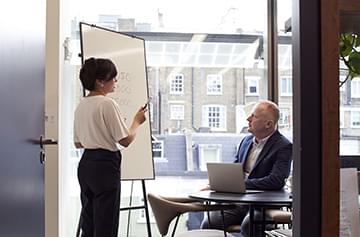 How to choose the right business insurance policy that benefits you?
With so many options to choose from, it can be hard to choose the right policy for your business. We can help you choose the right insurance policy that suits the needs of your business. You can give us a call today to discuss your requirements with our experts.
A large number of small-scale and large-scale businesses have trusted us to protect their business risks.
Talk to an expert
Discussing your needs with an expert is the first and most important step toward choosing the right insurance policy for your business. Our experts are here to help you find exactly what you need to cover the risks of your business.
Calculating the right amounts
Our aim is to help you find a policy that suits your needs as well as your budget. We can help you calculate exactly how much coverage you need to ensure that you don't end up buying inadequate insurance coverage.
Don't make assumptions
A very important tip to remember while buying an insurance policy for your business is to never assume anything. If you have a question regarding the policy, just ask our experts, and they will help you understand everything clearly.
Here is a list of business insurance covers:
Commercial General Liability Insurance
Small & Medium size business packages
Large Commercial Accounts
Contractors Insurance
Restaurant Insurance
Construction Insurance
Apartment /Strata Buildings
Course of Constructions
Surety Bonds
Errors and Omissions/Professional Liability
Medical Malpractice
Event Liability
Directors & Officers
Builder's Risk Course of Construction Program
Comprehensive Home Builder's Risk Coverage
Wrap-up Liability Insurance
Warehousemen's legal liability
Boiler & Machinery
Business Property
Environment Protection